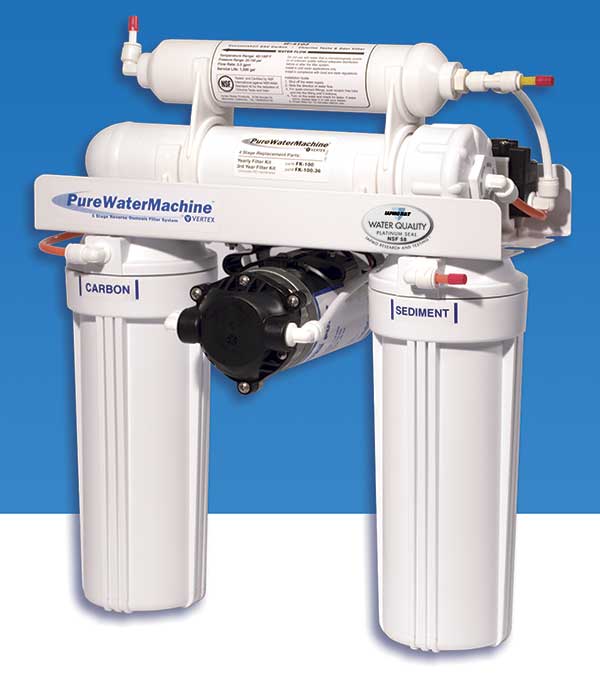 STAGE ONE
Sediment Filter, 5-Micron Polyspun Cartridge
2 1/2" dia. x 10″
STAGE TWO (optional)

10 Activated Carbon Block Filter 5 Micron
2 1/2" dia. x 10″
STAGE THREE
Activated Carbon Block Filter 5 Micron
2 1/2" dia. x 10″
STAGE FOUR
Reverse Osmosis Membrane
36 GPD TFC @ 65 PSI Pressure Differential
STAGE FIVE
Granular Activated Carbon Post-Filter
In-Line, 2" dia. x 10"
TANK
4.0 Gallon Plastic Tank (metal tank available)
Pre-pressurized with Butyl Bladder
(2.5 gal. water capacity when full)
---
Specifications
Shipping Weight:
4-stage 32 lb.
5-stage 37 lb.
Dimension:
4-stage 14.5"W x 8.5"D x 18"H
5-stage 14.5"W x 8.5"D x 18"H
Tank: 11″ dia. x 15.5″H
Conditions of Use
Water Must be microbiologically safe
Temperature, 40 -100 degrees F
pH Range, 3 to 10
Feed pressure, 40 to 100 psig
Maximum TDS, 1500 PPM
Turbidity, less than 1.0 NTU
Certified Reduced Contaminants
Arsenic, Barium, Cadmium, Chromium III & VI, Copper, Cysts,
Fluoride, Lead, Nitrates, Nitrites, Radium 226 & 228, Selenium, TDS, Turbidity, Tested for structural integrity, chemical extraction and reduction of contaminants
Series 50 – Certified High Volume Systems with Pump
50 GPD RO systems for use in low pressure or high TDS applications
For use in low water pressure situations. Use when the water pressure is below 40-psi, when the TDS is high or when more water is needed. The booster pump creates a pressure of 80 psi to run the RO membrane at peak efficiency. It is placed after the first stage sediment filter to reduce wear from sediment. A pressure switch located on the line to the storage tank turns the pump ON when the tank pressure is 25-psi and OFF when the tank pressure is 40-psi. The pump motor transformer plugs into a standard 110-volt outlet (220 volt available). All other specifications are the same as for the PT-504.
5-stage Combines the IAPMO Certified PT-505 system with a booster pump. The booster pump is placed after the 3rd pre-filter in the 5-stage configuration. Systems with pump and AutoFlush option can be configured for water up to 4000 TDS.
Comes complete and ready to install with dispensing faucet and instruction manual.
Features
• Auto shut-off valve (conserves water)
• Flow restrictor – modified capillary
• Long-reach, non-airgap chrome faucet included
• Threaded feed-water adapter with metal ballvalve
• Drain connection included
• 1/4 inch flexible polyethylene tubing with quick-connect O-ring seal fittings
• 24 VDC booster pump and tank pressure switch
• 2 year limited warranty
Autoflush
Add the autoflush option to prolong the life of the RO membrane, especially in areas with high TDS, sediment load and hardness. Each time the pump turns on, the autoflush valve opens to permit full flow to the drain for 20-seconds, flushing the inside of the membrane of any built up contaminants. This reduces plugging of the membrane and ensures efficient rejection of TDS for a longer time.
AUTOFLUSH RECOMMENDED FOR WATER OVER 1500 TDS.
Ordering Information

Part No.

4-stage Reverse Osmosis

PT-504P

5-stage Reverse Osmosis

PT-505P
Available Options

with UV Sterilizer add /UV

add /UV
with Air Gap Faucet

(meets many city's requirements)

add /AG

with Metal Tank

add /MT

with Quick-Connect fittings

(includes 3/8" line from tank to faucet)

add /QC

with 3/8" Feed Water Adapter

add /3/8FWA

with 1/2"-3/8" John Guest Convertible Feed Water Adapter

call factory

ProTekk Water Tray and Leak Detector

add LDDT-1218
Replacement Filters

5 micron Sediment cartridge, 2.5" x 10"

SF-4001

Carbon Block cartridge, 2.5" x 10"

CF-4060

GAC inline post filter, 2" x 10"

IF-4103

50 GPD Replacement RO Membrane

MA-4203

Certified 4-stage Filter Replacement Kit

FK-100
For Sales, Service or Parts, contact
Vertex Water Products
800-627-2146