PureWaterMachine Accesories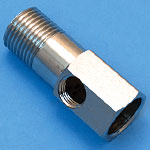 Feed Water Adapter
1/2 mpt x 1/2 fpt
w1/4 fpt side port
FWA-2501
Feed Water Adapter
3/8" compression fitting  w/ 1/4" fpt
side port
FWT-2507 
Metal Ball Valve
1/4″ mpt x 1/4″
compression fitting
BVM-2500
Metal Ball Valve
1/4″ mpt x 3/8″
compression fitting
BVM-2505
Drain Saddle
fits 1″-1/2″ pipe w/
compression fitting
1/4″ tube   DR-5001
3/8″ tube    DR-5002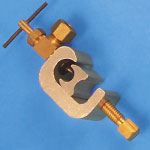 Self Piercing
Saddle Valve
fits 3/8″- 5/8″ pipe, compression fitting
for 1/4 tube
SV-2503
Tank Adapter
3/4″ fpt x 1/4″ fpt
(for 14 gal. Tank)
TKA-2506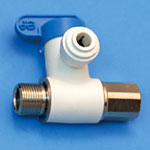 Feed Water Adapter
John Guest 3/8″ compression fitting
w/ 1/4″ QC valve
FWAJ-2510 
Convertible Feed
Water Adapter
John Guest, 1/2-3/8″ compression fitting
w/ 1/4″ QC valve
FWAJ-2511
Autovalve
4 connection 1/4″ QC
AVQC-1303
Payne Autovalve
4 connection 1/4″ QC U-turn style
AVQC-1310
Test and Control Equipment
TDS and Temperature Meter
Measure TDS of incoming and RO water. Help identify proper RO operation. Dual Range with 0-999 digit readout. Auto Shut-Off saves battery.
TDS-8012 
Water Pressure Test Meter
0-150 psi with tee to install and check water pressure.
1/4″ QC connection on both ends.
PGA-8051
Water Hardness Test Strips
Determine hardness of feed water. Color change indication of hardness at 3, 5, 7, 11, 15, 25, 59 grains/gal. 25 strips per bottle.
HTS-8050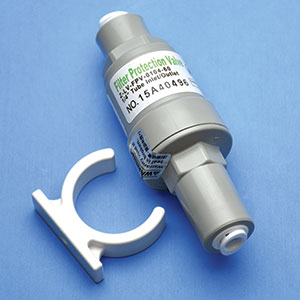 Pressure Regulator
Inline, 1/4″ QC 60PSI with mounting clip.
PR-8060