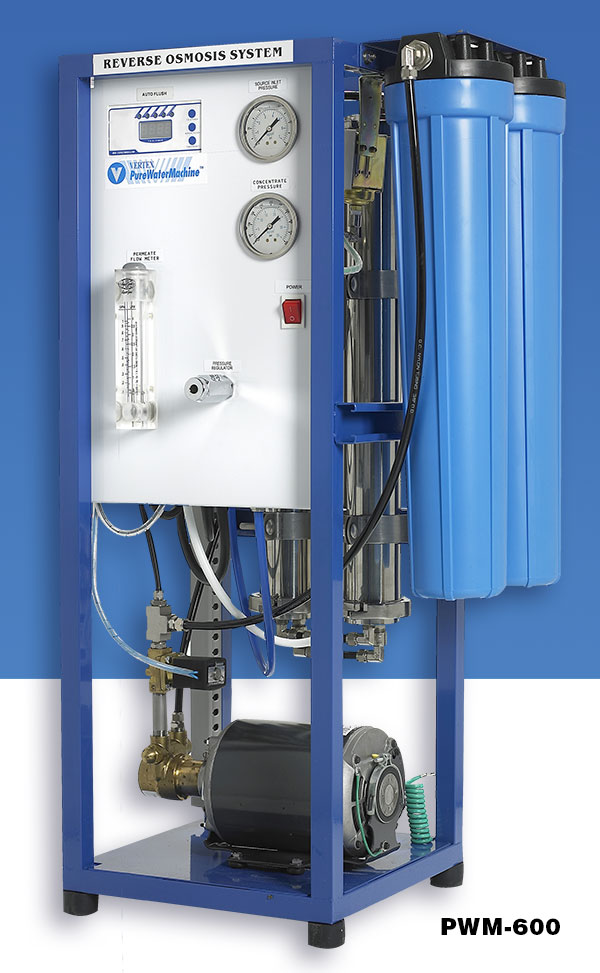 Commercial Water Purification
For whole house supply, water stores, boiler water
and process water.
Built on a sturdy free-standing powder coated steel frame, these use commercial size RO membranes which typically removes 95% of the
TDS. These systems are designed to handle up to 2500 ppm TDS, with an estimated 3-year life for the RO membrane. All models come with
sediment and carbon prefilters as a safety measure. Pre-treatment is required by the user for the larger flow rates and in case of hard water
• TFC reverse osmosis membranes with stainless steel housings
• Positive displacement pump with motor
• Feed water solenoid valve
• Product water flow meter, product water TDS sensor
• Brine control with manual needle valve
• Pressure gauges for supply water and pump inlet
• Membrane flush system
• Low pressure shut down switch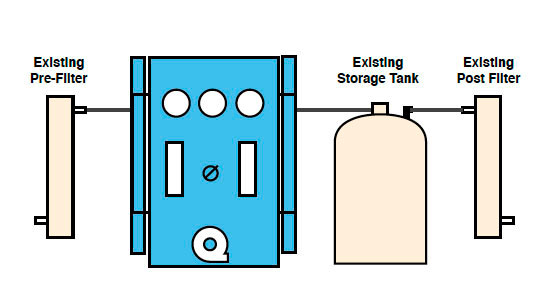 System Rating*
Gal. per Day
Pressure
PSI Oper./Max
Height
Inches
Width
Inches
Depth
Inches
Inlet/Outlet
Connection Size
Weight
Pounds
Motor HP
115/60
RO Membrane
Order
Number
600
125/175
38
24
14
3/4" npt
3/8" tube
66
1/2
2521 x 2
PWM-600
1200
125/175
38
24
14
3/4" npt
3/8" tube
86
1/2
4021 x 1
PWM-1200
1800
125/175
51
25
24
3/4" npt
1/2" npt
120
1
4040 x 1
PWM-1800
*System rating based on engineering constraints for proper flow at membrane surface.
Typical configuration shown. Water Analysis and conditions must be provided to properly size the system.