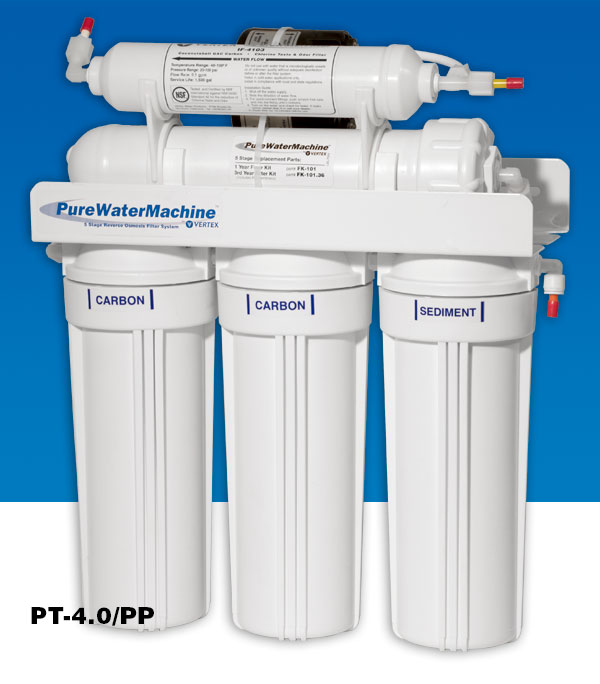 STAGE ONE
Sediment Filter, 5-Micron Polyspun Cartridge
2 1/2" dia. x 10″
STAGE TWO (optional)

10 Activated Carbon Block Filter 5 Micron
2 1/2" dia. x 10″
STAGE THREE
Activated Carbon Block Filter 5 Micron
2 1/2" dia. x 10″
STAGE FOUR
Reverse Osmosis Membrane
36 GPD TFC @ 65 PSI Pressure Differential
STAGE FIVE
Granular Activated Carbon Post-Filter
In-Line, 2" dia. x 10"
TANK
4.0 Gallon Plastic Tank (metal tank available)
Pre-pressurized with Butyl Bladder
(2.5 gal. water capacity when full)
---
Specifications
Shipping Weight:
4-stage 25 lb.
5-stage 28 lb.
Dimension:
4-stage 14"W x 6"D x 18"H
5-stage 15.5"W x 6"D x 18"H
Tank: 11″ dia. x 15.5″H
Conditions of Use
Water Must be microbiologically safe
Temperature, 40 -100 degrees F
pH Range, 3 to 10
Feed pressure, 40 to 100 psig
Maximum TDS, 1500 PPM
Turbidity, less than 1.0 NTU
High Efficiency RO Systems
Install anywhere with permeate pump
Use Permeate Pump models where the water pressure is marginal (30-45 psi) and there is no power available for a booster pump. Using a non-electric permeate pump, this model recovers pressure energy from the brine discharge and forces product water to the storage tank. This reduces the membrane back pressure and increases clean-water production efficiency. In this system the normal autovalve is replaced by the permeate pump. The tank pressure will be brought to 90% of the inlet pressure (instead of 67%), thus increasing the flow from the faucet. All other specifications are the same as the PT-4.0.
The 5-stage system is designed to ensure water quality, membrane performance and filter life, where the incoming water contains a high amount of sediment as in some well water systems. An extra pre-filter stage is added before the membrane. This design can also be used to extend time between filter changes.
Comes complete and ready to install with dispensing faucet and instruction manual.
The permeate pump may also be ordered separately to improve performance of an already installed unit.
Features
• Increases efficiency without electricity
• Fills the tank up to 5 times faster
• Long-reach, non-airgap chrome faucet included
• 1/4 inch flexible polyethylene tubing with JACO compression fittings
• Threaded feed-water adapter with metal ballvalve
• Flow restrictor – modified capillary
• Drain connection included
• 1 year limited warranty
Ordering Information

Part No.

4-Stage Reverse Osmosis

PT-4.0/PP

5-Stage Reverse Osmosis

PT-4.0/5/PP
Available Options

with UV Sterilizer add /UV

add /UV
with Air Gap Faucet

(meets many city's requirements)

add /AG

with Metal Tank

add /MT

with Quick-Connect fittings

(includes 3/8" line from tank to faucet)

add /QC

with 3/8" Feed Water Adapter

add /3/8FWA

with 1/2"-3/8" John Guest Convertible Feed Water Adapter

call factory

ProTekk Water Tray and Leak Detector

add LDDT-1218
Replacement Filters

5 micron Sediment cartridge, 2.5" x 10"

SF-4001

Carbon Block cartridge, 2.5" x 10"

CF-4060

GAC inline post filter, 2" x 10"

IF-4103

36 GPD Replacement RO Membrane

MF-4009

Certified 4-stage Filter Replacement Kit

FK-100
For Sales, Service or Parts, contact

800-627-2146