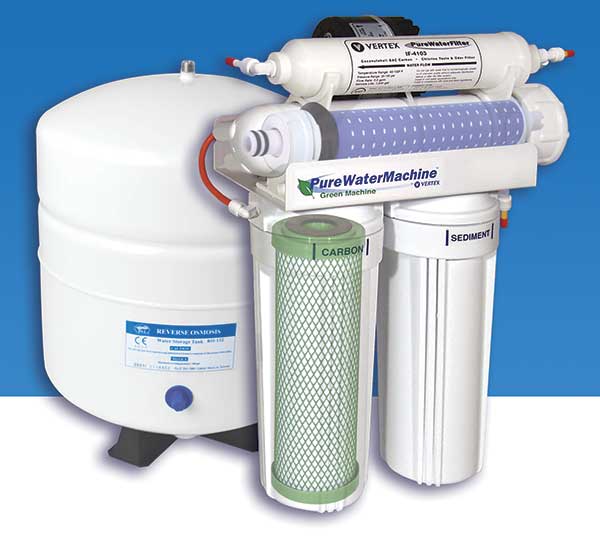 STAGE ONE
Sediment Filter, 5-Micron Polyspun Cartridge
2 1/2" dia. x 10″
STAGE TWO (optional)

10 Activated Carbon Block Filter 5 Micron
2 1/2" dia. x 10″
STAGE THREE
Activated Carbon Block Filter 5 Micron
2 1/2" dia. x 10″
STAGE FOUR
Reverse Osmosis Membrane
36 GPD TFC @ 65 PSI Pressure Differential
STAGE FIVE
Granular Activated Carbon Post-Filter
In-Line, 2" dia. x 10"
TANK
4.0 Gallon Plastic Tank (metal tank available)
Pre-pressurized with Butyl Bladder
(2.5 gal. water capacity when full)
---
Specifications
Shipping Weight:
4-stage 25 lb.
5-stage 28 lb.
Dimension:
4-stage 14"W x 6"D x 18"H
5-stage 15.5"W x 6"D x 18"H
Tank: 11″ dia. x 15.5″H
Conditions of Use
Water Must be microbiologically safe
Temperature, 40 -100 degrees F
pH Range, 3 to 10
Feed pressure, 40 to 100 psig
Maximum TDS, 1500 PPM
Turbidity, less than 1.0 NTU
GreenMachine™ Supreme
High Volume Eco-Friendly RO Systems
4 and 5-stage undersink Reverse Osmosis filter systems specifically designed to reduce waste water to the drain by up to 85%. Both models use environmentally friendly Greenblock® filtration media that significantly reduce the carbon footprint when compared to traditional carbon filters. The NSF and WQA certified Greenblock filters are made using eco-friendly coconut-shell greencarbon™ that is manufactured using a special process that reduces harmful green-house gas emissions. The RO membrane removes an average of 95% of the dissolved solids from the incoming water, while sending up to 85% less wastewater to the drain using its new Energy-Recovery-Valve. The Green Machine Supreme fits under most sinks and makes clean, great tasting water whenever you need it, eliminating the need for bottled water and the negative environmental impact associated with it.
The 5-stage system is designed to ensure water quality, membrane performance and filter life, where the incoming water contains a high amount of sediment as in some well water systems. An extra pre-filter stage is added before the membrane. This design can also be used to extend time between filter changes.
Comes complete and ready to install with dispensing faucet and instruction manual.
Features
• Eco-Friendly Greenblock® carbon filtration
• Up to 85% less waste-water to drain
• City water pressure operates the RO membrane
• Auto shut-off valve (conserves water)
• Flow restrictor – modified capillary
• Long reach, non-airgap chrome faucet
• Feed water connector – threaded inlet adapter with metal ballvalve
• Drain connection included
• 1/4 inch flexible polyethylene tubing with JACO compression fittings
• 2 year limited warranty
Ordering Information

Part No.

4-Stage Reverse Osmosis

PT-4GS

5-Stage Reverse Osmosis

PT-5GS
Available Options

with UV Sterilizer add /UV

add /UV
with Air Gap Faucet

(meets many city's requirements)

add /AG

with Metal Tank

add /MT

with Quick-Connect fittings

(includes 3/8" line from tank to faucet)

add /QC

with 3/8" Feed Water Adapter

add /3/8FWA

with 1/2"-3/8" John Guest Convertible Feed Water Adapter

call factory

ProTekk Water Tray and Leak Detector

add LDDT-1218
Replacement Filters

5 micron Sediment cartridge, 2.5" x 10"

SF-4001

GreenBlock Carbon Block cartridge, 2.5" x 10"

CF-4100

GAC inline post filter, 2" x 10"

IF-4103

50 GPD Replacement RO Membrane

MA-4203

Certified 4-stage Filter Replacement Kit

FK-100G
For Sales, Service or Parts, contact

800-627-2146