Specifications
Weight: 80 lb.
Dimension: 17"W x 16"D x 47"H
Main tank volume 4.4 gal
Cold tank volume 1.1 gal
Hot tank volume .8 gal
Cooling Rate 1.5 gal/hr 37-50ºF
Heating Rate: 1.5 gal/hr 180 ºF
Voltage: 115 VAC
Power Required: 600w max
Filter System
Standard Filter 7000F
Stage 1: 5 micron Sediment
Stage 2: 10 micron Activated Carbon
Reverse Osmosis Filter 7000R
Above 2 stages plus
Stage 3: 100-GPD RO Membrane
Fully assembled – connection hardware included
Vertex PWC-7000
Our Largest Capacity Dispenser with Bold Look
2-temperature, hot and cold bottle-less water cooler with the largest total storage capacity Vertex offers at 6.3 gallons. It serves offices or factories of up to 70 people.
• Two temperature system
    • Cold: 37-50º F, Adjustable • Hot: 180º F, Autocontrol
    • LED indicator for Hot and Cold water on the front panel
•    Built-in filtration system is easily accessed for replacement
•    Choose Reverse Osmosis or standard Dual-Cartridge filtration
•    Individual on/off control switches for cold or hot water on rear panel
•    Sealed stainless steel cold reservoir and hot tank
•    Convenient, recessed, no-drip dispensing faucets
•    High efficiency sealed compressor cooling system
•    Taller 8" fill opening allows mugs and bottles easy access
•    Enclosed no-drip faucets eliminate hand contact for better hygiene. 
•    Steel subframe and side panels withstand years of use
•    ABS front and top covers have a high impact appliance finish
•    Ample storage for cups, coffee or other sundries
•    1 year limited warranty – 3 year compressor warranty
UV sterilizer and ozone sanitizer options available.
Ordering Information

Part No.

2-Temp Model - 50 GPD Reverse Osmosis

PWC-7000R

2-Temp Model – Standard Filtration

PWC-7000F

2-Temp Model – No Filtration

PWC-7000

2-temp Model w/ UV Sterilizer

add /UV

2-temp Model w/ Ozone Sanitizer

add /OZ

2-temp Model w/ ProTekk Mechanical Leak Detector

add /LDM

Replacement Filters

Sediment

IFA-4035

GAC Carbon

IFA-4034

RO Membrane, 100 GPD

MA-4205
For Sales, Service or Parts, contact

800-627-2146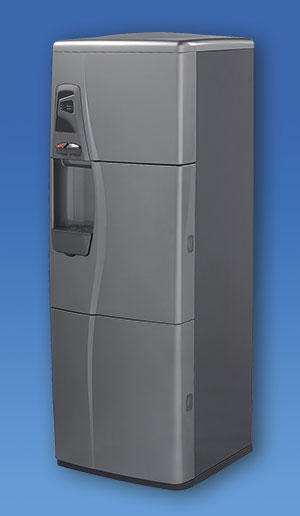 Conforms to UL std 399
ADA Compliant