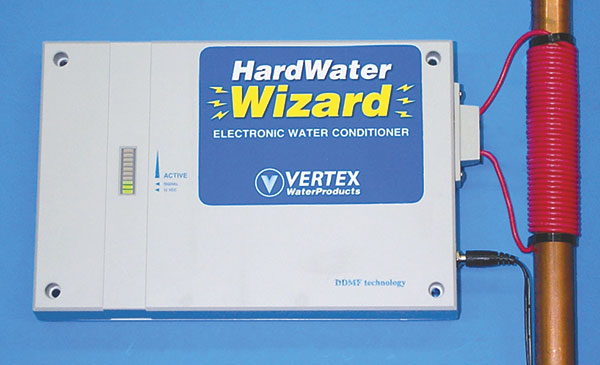 Benefits
• Keeps hard water deposits from forming
• Removes existing scale in 90 days
• Treats water up to 120 grains*
• No maintenance-set it and forget it operation
• Reduces detergent use
• Increases water heater efficiency
• Compact and easy to install
• No plumbing or special skills needed
• No salt or chemicals used
• 2 year limited warranty

The HardWaterWizard™– Electronic Water Conditioner
Electronic Alternative to Water Softeners
The VERTEX HardWaterWizard is an electronic alternative to ion-exchange water softeners that will prevent mineral deposits and remove existing scale. When installed on the inlet water pipe, its continuously oscillating electric field changes the property of the hardness minerals so they stay in solution and don't deposit on faucets and pipes.
It's a great way to condition water up to 125 grains and will work on plastic, copper and steel pipes while using less than 10-watts of electricity. Easy to install, it is an excellent choice for homeowners who want to keep scale off but don't want the salt contamination or the maintenance and expense of ion exchange softeners. Great for use in municipalities where ion-exchange water softeners are banned.
This technology has been studied numerous times, most recently at the University of Arizona in 2011, using the DVGW-w512 protocol. These studies produced similar results – 50% scale reduction on average confirming our own results at Vertex. In addition there is a reduction in PH of 0.1 to 0.3 in the treated water which leads to the elimination of existing scale.
Ordering Information

Part No.

Up to 1" pipe Membrane

RW-10

Up to 1.5" pipe Membrane

RW-15
Specifications
Enclosure: ABS plastic Size: 10" x 6" x 1.5"
Shipping weight: 2.5 lbs.
Coil voltage: 12 VDC
Power usage: less than 10 watts max
Operating temperature: -20º to 140ºF
Inlet voltage:110-240 volts, 60Hz
Signal Cable temp.: 196ºF max, 600 volts
Signal "on" light and cycling LED meter.
Comes complete with electronic module, signal
cable, cable ties, power converter, connection
hardware and instruction manual.