BevGuard – Replacements for Everpure® and Cuno® Filters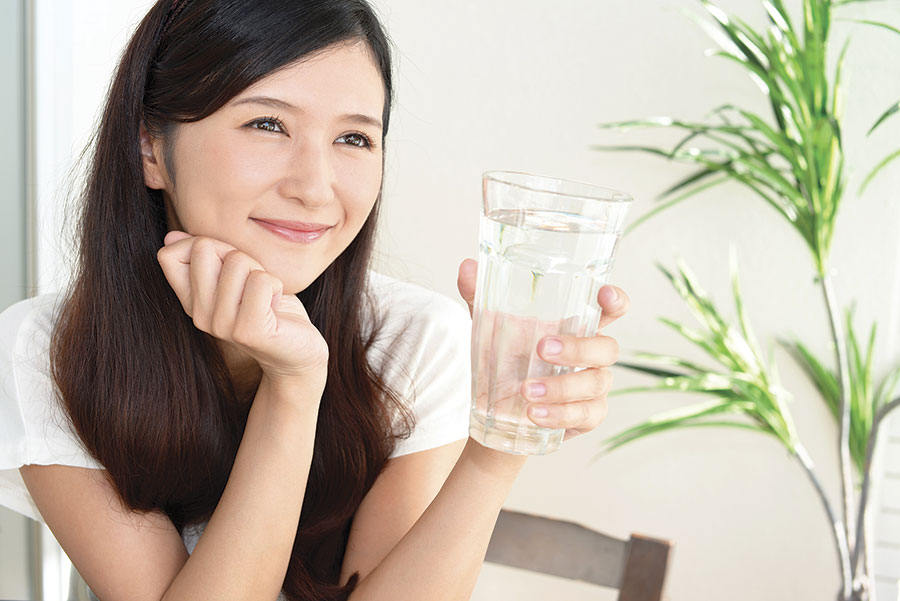 These BevGuard Replacement Filters are designed for the most demanding OCS and Food Service applications. Manufactured specifically to be an economical alternative to most popular Everpure® and Cuno® replacement filters, these filters will meet or exceed the performance of the originals.
These replacement filters offer up to 10x more carbon by volume than similar sized filters using pre-coat carbon technology, and provide enhanced chlorine taste & odor reduction with a higher flow-rate and capacity. They also filter out sediment, rust and other particulate matter to 0.5 micron.
Choose the S Option for excellent scale protection for Hot Water appliances and Ice-Makers by adding specially formulated polyphosphate.
Sizes to match most Everpure and Cuno filters
BevGuard Everpure and Cuno style filter heads available
Reduces chlorine taste and odor and delivers clean, clear water that tastes great
Tested and certified to ANSI/NSF Std. 42 for chlorine reduction, material requirements and structural integrity
Multiple O-rings for superior water seal and longer service life
Choose scale protection for hot water appliances, Ice-Makers and other equipment
Other models available to fit Hoshizaki filter heads.
BevGuard Replacement Filters for Everpure OCS – metal housing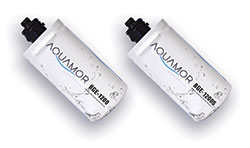 0.5 micron Carbon Block

BGE-1200
Dimensions: 6.5" end to tip, 3.25" dia., Weight: 1 lb., Flow Rate: 1.67 gpm,
3,500 gallon capacity, Maximum Pressure:125 psi
Replaces Everpure 2CB5
0.5 micron Carbon Block w/polyphosphate

BGE-1200S
Dimensions: 6.5" end to tip, 3.25" dia., Weight: 1 lb., Flow Rate: 1.67 gpm,
3,500 gallon capacity, Maximum Pressure:125 psi
Replaces Everpure 2CB-GW, 2CB5-K, 2CB5-S, 2CLM-S, 4C, BH2, OCS2, OW200L, OW2-Plus
BevGuard Replacement Filters for Everpure OCS & Foodservice – metal housing
0.5 micron Carbon Block
BGE-3200
Dimensions: 16.5" end to tip, 3.25" dia., Weight: 3 lb., Flow Rate: 2.1 gpm,
29,000 gallon capacity, Maximum Pressure:125 psi
Replaces Everpure 4C Filter, SPA 400, S-101, S-100, PRO2500, MD-HN, PBS-400
0.5 micron Carbon Block w/polyphosphate
BGE-3200S
Dimensions: 16.5" end to tip, 3.25" dia., Weight: 3 lb., Flow Rate: 2.1 gpm,
29,000 gallon capacity, Maximum Pressure:125 psi
Replaces Everpure 4H Filter, 4K Plus, H-100, H-104, MD-CD, OW4-Plus
BevGuard Replacement Filters for Everpure OCS & Foodservice – plastic housing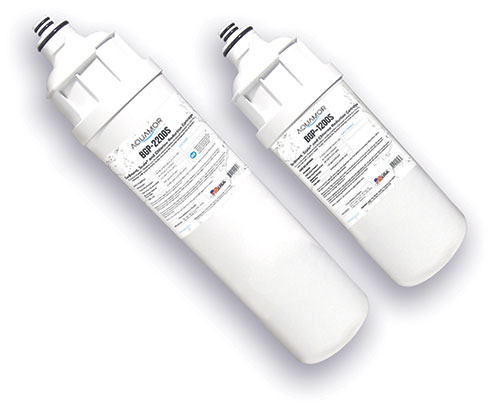 0.5 micron Carbon Block w/polyphosphate
BGP-1200S
Dimensions: 11" end to tip, 3.5" dia., Weight: 2 lb., Flow Rate: 1.2 gpm,
10,000 gallon capacity, Maximum Pressure:125 psi
Replaces Everpure 2CLM-S, 4C, BH & BH2, H-104, H-1200, H-300, H-300-HSD,
H-300+M, H-54, OCS2, OSC
0.5 micron Carbon Block w/polyphosphate
BGP-2200S
Dimensions: 14" end to tip, 3.5" dia., Weight: 3 lb., Flow Rate: 1.67 gpm,
23,000 gallon capacity, Maximum Pressure:125 psi
Replaces Everpure 2FC-S, 2K-PLUS, 4FC-S, 4K Plus, 4SI, i2000, i4000, MH2
5 micron Carbon Block w/polyphosphate
BGP-1300S
Dimensions: 11" end to tip, 3.5" dia., Weight: 2 lb., Flow Rate: 1.2 gpm,
8,000 gallon capacity, Maximum Pressure:125 psi
Replaces Everpure 2FC-S, 2K-PLUS, 4FC-S, 4K Plus, 4SI, i2000, i4000, MH2
5 micron Carbon Block w/polyphosphate
BGP-2300S
Dimensions: 14" end to tip, 3.5" dia., Weight: 2 lb., Flow Rate: 1.2 gpm,
10,000 gallon capacity, Maximum Pressure:125 psi
Replaces Everpure 4CB5-S, BH2
BevGuard Replacement Filters for Cuno OCS & Foodservice – plastic housing
0.5 micron Carbon Block
BGC-2200
Dimensions: 12.25" end to tip, 3.1885" dia., Weight: 2 lb., Flow Rate: 1.67 gpm,
20,000 gallon capacity, Maximum Pressure:125 psi
Replaces Cuno CS-12 55895-03, CS-22 55895-07, CS-32 55817-23,
CS-72 55895-06, CFS-8812-X, 56011-01, CFS 8112 55817-05
0.5 micron Carbon Block w/polyphosphate
BGC-2200S
Dimensions: 12.25" end to tip, 3.1885" dia., Weight: 2 lb., Flow Rate: 1.67 gpm,
20,000 gallon capacity, Maximum Pressure:125 psi
Replaces Cuno CFS 8112-S 55817-08, CFS 8112-XS 56011-03, CS-31,
55817-22, CS-11 55895-01, CS-71 55817-14, CS-21 55895-05
0.5 micron Carbon Block
BGC-3200
Dimensions: 15.5" end to tip, 3.1885" dia., Weight: 3 lb., Flow Rate: 2.1 gpm,
27,000 gallon capacity, Maximum Pressure:125 psi
Replaces Cuno CFS 8112-EL 55817-27, CFS 8812-ELX 56011-03
0.5 micron Carbon Block w/polyphosphate
BGC-3200S
Dimensions: 15.5" end to tip, 3.1885" dia., Weight: 3 lb., Flow Rate: 2.1 gpm,
27,000 gallon capacity, Maximum Pressure:125 psi
Replaces Cuno CFS 8112-ELS 55817-27, CFS 8812-ELX-S 56011-07s