BevGuard – Filter-Head and Manifold-Head Assemblies
Designed to work with Cuno™, Everpure™ and BevGuard™ filter cartridges.
The BevGuard filter-head and manifold-head assemblies offer simple-to-use, industrial grade filtration solutions when high-use or high-flow is needed. Multiple coffee machines, beverage fountains and commercial Ice Machines can be supplied crystal clear filtered water by choosing the system that fits your needs. The plumbed-in-parallel multiple head design can give 2, 3, or up to 4 times the GPM flow rate of the individual cartridge rating being used. The multi-head assemblies can also have a 2nd separate polyphosphate head outlet for Ice machines or other equipment that need to be protected from scale.
Single cartridge head assembly for appliance specific application
Multiple cartridge assemblies where longer life or higher flows are required
Multi-head assemblies plumbed in parallel with a separate polyphosphate head & outlet for special need or multiple outlet applications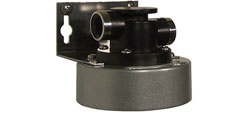 Single Metal Head with 3/8" fpt ports
compatible manifold head systems on stainless bracket for BGE and Everpure filters
(filters not included)
BGEMH-105124
Single Manifold Head assembly with pressure relief/flush valve, pressure gauge
and 3/8" mpt ports
---
BGEMH-105126
Dual Manifold Head, plumbed in parallel with pressure relief/flush valve, pressure gauge, single inlet and 3/8" outlet  mpt ports
---
BGEMH-105128
Triple Manifold Head, plumbed in parallel with pressure relief/flush valve, pressure gauge, single inlet and outlet 3/8" mpt ports
---
BGEMH-105134
Quad Manifold Head, plumbed in parallel with pressure relief/flush valve, pressure gauge, single inlet and outlet 3/8" mpt ports
---
BGEMH-105125
Dual Manifold Head, plumbed in parallel, dual outlet ports, (2nd outlet 3/8" tube from separate phosphate head), pressure relief/flush valve, pressure gauge, 3/8" mpt ports
---
BGEMH-105127
Triple Manifold Head, plumbed in parallel, dual outlet ports, (2nd outlet 3/8" tube from separate phosphate head) pressure relief/flush valve, pressure gauge, 3/8" mpt ports
---
BGEMH-105133
Quad Manifold Head, plumbed in parallel, dual outlet ports, (2nd outlet 3/8" tube from separate phosphate head) pressure relief/flush valve, pressure gauge, 3/8" mpt ports
---
BGEMH-105135
Penta Manifold Head, plumbed in parallel, dual outlet ports (2nd outlet 3/8" tube from separate phosphate head) pressure relief/flush valve, pressure gauge, 3/8" mpt ports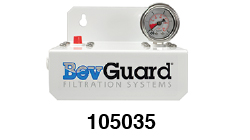 Single and Multiple Head Bracket Systems for BGC filters
BGCH-1022
Single Plastic Head with 3/8" fpt ports
---
BGCHA-105020
BGC Single Head Bracket Assembly w/ 3/8″ Fittings
---
Dual Head Bracketed Units – In Parallel
BGCHA-105026
BGC Dual Head Series Bracket Assembly w/ 3/8″ Fittings, Gauge & Pressure Relief
---
BGCHA-105035
BGC Dual Head Parallel Bracket Assembly w/ 3/8″ Fittings, Gauge & Pressure Relief
---
Triple Head Bracketed Units – In Parallel
BGCHA-105030
BGC Triple Head Series Bracket Assembly w/ 3/8″ Fittings, Gauge& Pressure Relief
---
BGCHA-105039
BGC Triple Head Parallel Bracket Assembly w/ 3/8″ Fittings, Gauge& Pressure Relief
---
compatible manifold head systems on stainless bracket for BGC and Cuno filters
(filters not included)
BGCMH-105003
Single Manifold Head assembly with pressure relief/flush valve, pressure gauge and 3/8" mpt ports
---
BGCMH-105007
Dual Manifold Head, plumbed in parallel with pressure relief/flush valve, pressure gauge,
single inlet and outlet 3/8" mpt ports
---
BGCMH-105011
Triple Manifold Head, plumbed in parallel with pressure relief/flush valve, pressure gauge,
single inlet and outlet, 3/8" mpt ports
---
BGCMH-105015
Quad Manifold Head, plumbed in parallel with pressure relief/flush valve, pressure gauge,
single inlet and outlet 3/8" mpt ports
---
BGCMH-105005
Dual Manifold Head, plumbed in parallel, dual outlet ports, (2nd outlet 3/8" tube from separate phosphate head)
pressure relief/flush valve, pressure gauge, 3/8" mpt ports
---
BGCMH-105009
Triple Manifold Head, plumbed in parallel, dual outlet ports, (2nd outlet 3/8" tube from separate phosphate head) pressure relief/flush valve, pressure gauge, 3/8" mpt ports
---
BGCMH-105013
Quad Manifold Head, plumbed in parallel, dual outlet ports,(2nd outlet 3/8" tube from separate phosphate head) pressure relief/flush valve, pressure gauge, 3/8" mpt ports
---
BGCMH-105017
Penta Manifold Head, Plumbed in parallel, dual outlet ports (2nd outlet 3/8" tube from separate phosphate head), pressure relief/flush valve, pressure gauge, 3/8" mpt ports
---