Corded Delivery Pump
Pump-8001
1.4 GPM w/ built-in pressure switch, 110VAC, 3/8″ fpt ports
RO Booster pump, residential
Pump-8010
24VDC, 3/8″ fpt ports
RO Booster pump, commercial
Pump-8002
36/24VDC, 3/8″ fpt ports
RO Booster pump, Aquatec
Pump-8037
6800 24VAC, 1/4″ QC ports
Transformer 115VAC/24VDC
TRNS-8003
Transformer 115VAC/36VDC
TRNS-8004
Transformer 115VAC/24VAC (for Aquatec 6800)
TRNS-8069
Add-on Booster Pump Set
PMPA-8014
Includes pump & tank switch with 1/4″ compression fittings mounted on bracket,
110v/24VDC transformer included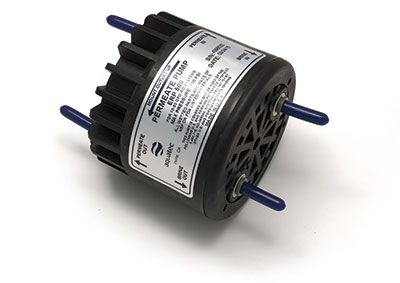 Permeate Pump
PP-5006
Add to any residential RO system. This non-electrical, energy-saving device dramatically improves RO system efficiency. Powered by the hydraulic energy of the brine water going to drain, the permeate pump pushes more purified water into the storage tank, reduces membrane back pressure and maximizes available feed water pressure – all which dramatically improves RO system production efficiency while reducing waste water up to 80 %. Includes mounting clip.
24 VDC, 1/4″ fpt ports
For use with Restaurant models PWM-250/350
1/4″ fpt ports
For use with booster pump assisted RO systems.
Shuts pump off at 40psi, 25-40 no/nc.